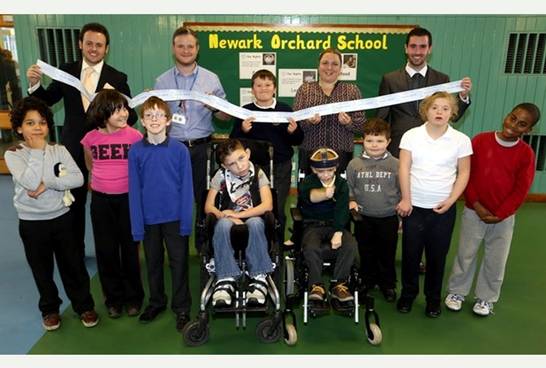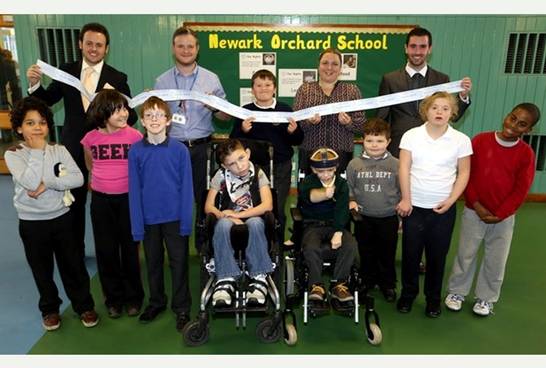 Robert Woodhead Limited team leader Mark Maisey (left) and project co-ordinator Gary Nicholson (right) with (centre) Newark Orchard School team leaders Jim McEwen and Leanne Hurdle with the youngsters who received the Nottingham Playhouse panto tickets
TWENTY children and teachers from a special school have been presented with free tickets to the Nottingham Playhouse pantomime Sleeping Beauty.
Newark Orchard School, in Appleton Gate, has been chosen by this year's theatre sponsor, Robert Woodhead Ltd, as part of the theatre's 50:50 appeal.
Mark Maisey, delivery team leader with the construction company, said: "We've done a lot of work at the school, so we've got to see first-hand how hard the teachers work. It's nice to be able to give back to the community."
The group will be watching a relaxed performance of the classic fairy tale, which has been designed for families with children who have a sensory disorder or learning disability.
Leanne Hurdle, team leader at the school, said: "A lot of the children wouldn't be able to go to the theatre, as one-to-one trips can be expensive.
"It's very interactive, which the children will love, and because panto is repetitive, they'll be able to join in the fun."
Katie Monaghan, 10, one of the children who will be watching the panto, said: "I'm excited to go as I've seen the film. There's a true love kiss at the end."
Jack Hallam, 10, added: "I don't want to see them kiss on stage! Kissing is only OK at night time."
The campaign was set up in 2013 to celebrate the theatre's 50th anniversary.
Since then, 3,500 people have had the opportunity to watch performances for free at the venue.
Nick Lawford, the theatre's fundraising and development manager, said: "Our aim is to be a theatre for everyone and we are always looking for ways to engage with our local community to ensure that the theatre is truly accessible."
The theatre is also currently inviting audiences to submit sealed bids for prints of paintings by local artist Eirian Bell that are currently on display in the upper foyer. All money raised will go to the appeal.
You can support the appeal by making a donation in person at the box office or by calling 0115 941 9419.